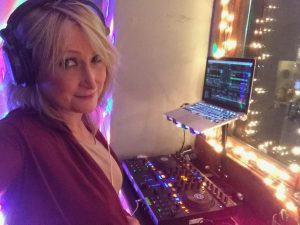 @Athonia (nickname: 'Nia') is a Santa Cruz DJ spinning weekly at nightclubs, parties and festivals and can be reliably seen Saturdays at MOTIV (@MotivSC) before 10pm. A workaholic, Nia dedicates every resource to making the events, for which she's been booked, a success. Unlike may DJs, who are known for their egotistical and brash behavior, Athonia conducts her life with modesty and humility. The end goal is to provide a music and lighting experience that lets people celebrate, escape, and build fond memories. What better creative outlet can a girl have?
Spinning music is not my only career. My daytime work involves Linux/VMware systems administration, Cisco Telepresence, VoIP, Firewalls, router & switch. This field is known commonly as "systems" or "network" engineering.
Days off are consumed by hiking, yoga, music and occasional surfing. Click on the links above & below to find out more. Your can also check out my Tumblr blog: http://athonia.tumblr.com/
Thanks for visiting
–Nia
p.s Listen to these some live mixes performed at MOTIV <– here.